FECH ARTIST PAGE
Jay Witham
Website: http://www.jaywitham.com/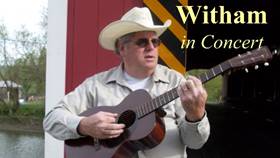 Jay Witham comes from a very musical family and has sung country gospel music since childhood. He is currently a member of the Inspirational Country Music Association, Nashville, TN and has had several top 100 songs on radio stations throughout the United States and abroad.
FECH ARCHIVE VIDEOS [CLICK the DATE to OPEN the Facebook Video]
DATE TIME DESCRIPTION
2022-05-14 1:12:44 Jay Witham
2021-05-29 1:21:00 Jay Witham
2020-08-08 1:20:51 Jay Witham
The Fire Escape, 159 Washington Street, Weymouth, MA 02188, TEL: (781) 888-2126
Hosted by: Worthy of Praise, 3300 Octavia Street, Raleigh, NC 27606, TEL: (919) 233-1770
© 2022-23 Fire Escape Ministries, Inc.