FECH ARTIST PAGE
Jonas Woods
Website: https://www.jonaswoods.net/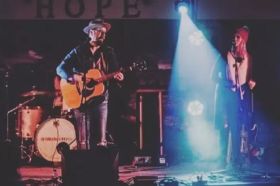 Jonas Woods has been in the music industry for 17 years. Starting as the front man and founder of the band "Farewell June", he now travels as a solo artist with his wife and partner in this musical adventure, Becky, singing at his side. He is father to two amazing boys and touring buddies, Hunter and Liam.
He's also a...
... Singer/Songwriter
... Worship Leader
... Speaker
... Producer
...Artist/Worship Team Developer
FECH ARCHIVE VIDEOS [CLICK the DATE to OPEN the Facebook Video]
DATE TIME DESCRIPTION
2021-10-09 1:10:21 Jonas Woods
2021-01-23 1:14:04 Jonas Woods
2020-10-03 0:56:03 Jonas Woods
The Fire Escape, 159 Washington Street, Weymouth, MA 02188, TEL: (781) 888-2126
Hosted by: Worthy of Praise, 3300 Octavia Street, Raleigh, NC 27606, TEL: (919) 233-1770
© 2022-23 Fire Escape Ministries, Inc.