FECH ARTIST PAGE
Patrick O'Connors
Website: https://www.facebook.com/PatrickOConnorsMusic/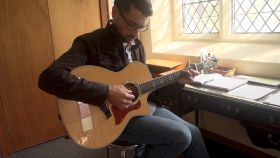 Patrick O'Connors is a Connecticut based worship leader and song writer. He is on staff at St. Paul's Church in Brookfield, CT, where he leads worship each week. In 2018, Patrick released his debut album "Give Us Life", an EP of worship songs written for his home church. His first full length album "Hope in the Waiting" was released in 2021. Patrick and his band have led worship throughout southern New England at various coffeehouse venues, bookstores, and cafés.
FECH ARCHIVE VIDEOS [CLICK the DATE to OPEN the Facebook Video]
DATE TIME DESCRIPTION
2023-04-22 1:28:06 Patrick O'Connors & Band
2021-07-10 1:46:57 Patrick O'Connors
2020-08-29 1:23:15 Patrick O'Connors
The Fire Escape, 159 Washington Street, Weymouth, MA 02188, TEL: (781) 888-2126
Hosted by: Worthy of Praise, 3300 Octavia Street, Raleigh, NC 27606, TEL: (919) 233-1770
© 2022-23 Fire Escape Ministries, Inc.