FECH ARTIST PAGE
Rejoice and Sing
Website: https://www.facebook.com/rejoiceandsing/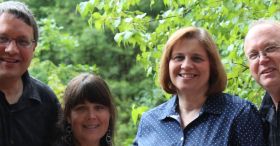 Rejoice and Sing" is a contemporary Christian worship group, located in the northeastern US. They appear at churches, camp meetings and music festivals, singing songs of encouragement and praise.
FECH ARCHIVE VIDEOS [CLICK the DATE to OPEN the Facebook Video]
DATE TIME DESCRIPTION
2021-07-24 1:31:43 Rejoice and Sing
The Fire Escape, 159 Washington Street, Weymouth, MA 02188, TEL: (781) 888-2126
Hosted by: Worthy of Praise, 3300 Octavia Street, Raleigh, NC 27606, TEL: (919) 233-1770
© 2022-23 Fire Escape Ministries, Inc.